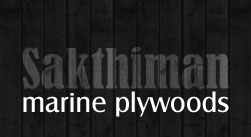 Sakthiman Marine Plywood is manufactured to withstand all type of climatic and weather variations especially the conditions of Kerala which experiences heavy downpours, high temperature and maximum humidity throughout the year. Sakthiman is made to tolerate all these hostile conditions. No doubt Sakthiman is sakthiman in every field of its application.




SAKTHIMAN Plywood is suitable for furnishing offices, houses, kitchens and been using for making furniture, doors or door-frames, boats even ice boxes. These applications make SAKTHIMAN Marine Plywood popular among engineers, builders, artisans, and even among other general users. SAKTHIMAN Checkered marine Plywood has been widely used to build Bus & Truck platforms, for it last longer than longer that other product or the same nature available I the market.

We give first and foremost importance to quality than quantity. To be precise we do not compromise where quality and customer services are concerned. It is the part of our philosophy and we believe that imparting apt material and optimal service to our customers are the best way to our progress. We therefore make our product to last longer irrespective of the area of its application.